DONNA HOPKINS
"Donna Hopkins is a force of nature." — Rob Johnson, Hittin' The Note
"With a performance style accurately described as 'lightning in a bottle,' Hopkins matches her vast vocal ability with her raw & articulate guitar skills, making this singer-songwriter a triple threat." – Eddie's Attic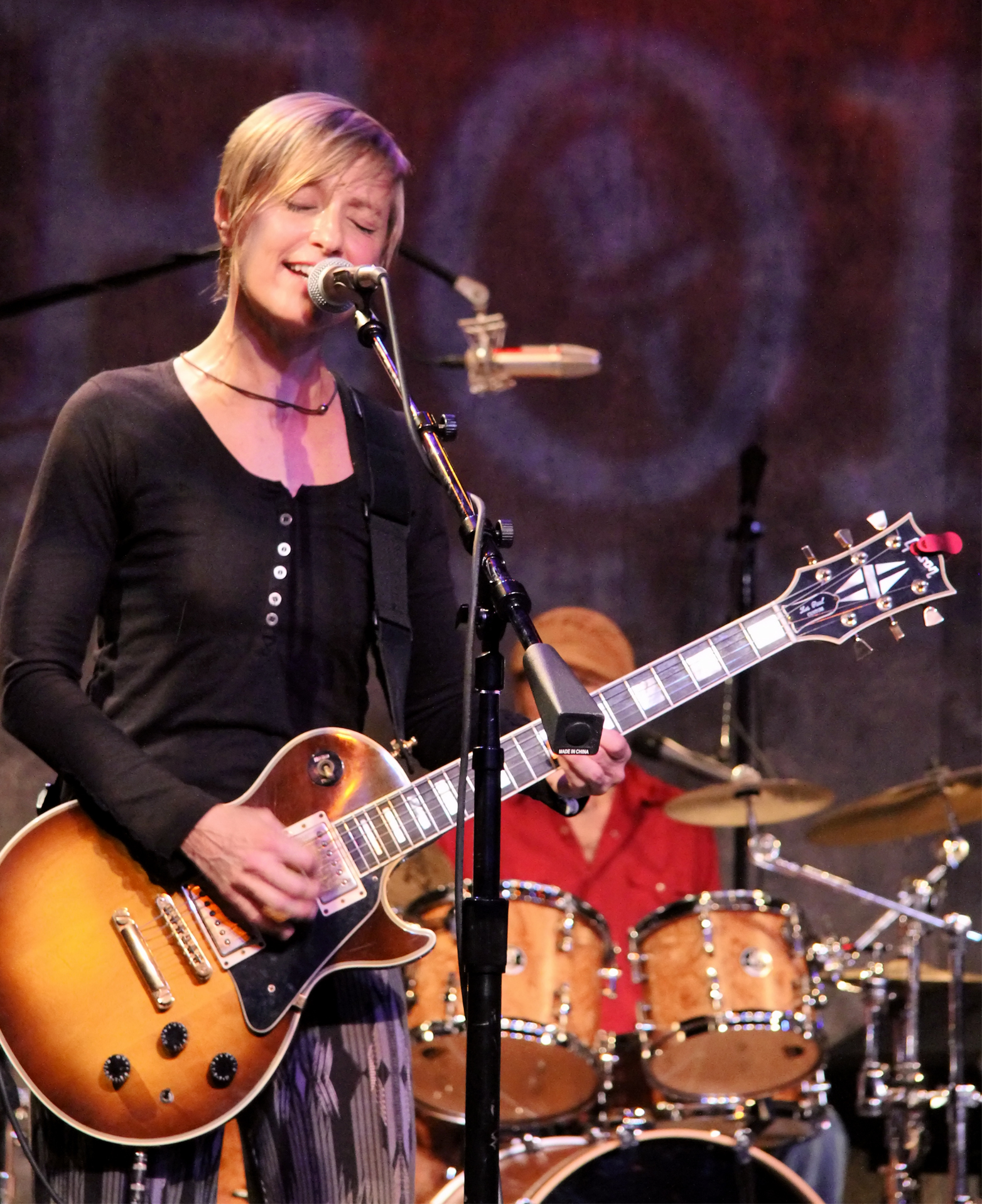 Donna Hopkins is the real deal. Born and raised on a North Alabama farm, Donna witnessed life in the South first hand, channeling it into the soulful music that she creates and performs. Music runs in her family; her mother performed rock and roll in go-go boots and mini-skirts and her grandfather was a fine bluegrass musician in his own right. Following in their footsteps, Donna is a consummate seasoned performer with many songs and performances under her belt. As a young teenager, Donna recalls sneaking out to the MGM Grand in famous Muscle Shoals, Alabama to jam with David Hood, Roger Hawkins, and Harrison Calloway…it's not many who can say they cut their teeth with members of Aretha Franklin's band!
Georgia Music Magazine calls Donna Hopkins a "genuine triple threat" due to her prowess as a singer, songwriter and guitarist. In addition to her other talents, Donna also wears the producer's hat, working with and developing up-and-coming talent in the Atlanta area. As much at home in an intimate listening venue as she is on a giant festival stage, Donna Hopkins performs both solo and accompanied by the perfectly seasoned group of musicians who make up the Donna Hopkins Band, and is always a crowd pleaser.
National acts that Donna has opened for or performed with: BloodKin, Big Bill Morganfield, Col. Bruce Hampton, Charley Pride, Chris Hicks (of the Marshall Tucker Band), Clint Black, Conway Twitty, David Allan Coe, Derek Trucks Band, Donna The Buffalo, Donnie McCormick, Emily Saliers (of the Indigo Girls), Francine Reed, Gatemouth Brown, George Jones, George Porter, Jr., Indigo Girls, Jeff Sipe, Joe Bonamassa, King Johnson, Lorrie Morgan, Lee Boys, Little Joe, Luther "Houserocker" Johnson, Martina McBride, Mel Tillis, Michelle Malone, Mudcat, Oak Ridge Boys, Oliver Wood, Rita Graham, Sammy Blue, Sean Costello, Robert Cray, Ronnie Milsap, Stevie Wonder, Tanya Tucker, Tinsley Ellis, Todd Nance (of Widespread Panic), Travis Tritt, Vince Herman (of Leftover Salmon)
Donna Hopkins online:
Website
Facebook
Twitter
Instagram
GIBSON WILBANKS
"WATCH 4 THEM! THEY WON'T STAY UNKNOWN!" - Eddie Owen
I haven't been this excited about new talent since I saw Sean and Sara Watkins play Merlefest before they became Nickel Creek. - Curtis Johnson (Songs From The Wood House Concerts)
When Carly Gibson and BJ Wilbanks first began collaborating musically during the summer of 2011, it was like milk chocolate meeting peanut butter…a beautiful and tasty combination! Up to that point, they had each been pursuing separate solo singer/songwriter careers, but something truly magical took place when they began writing and performing together.
Carly Gibson gained a lot of attention as a songwriter, singer and guitar player when she was selected to attend the GRAMMY guitar and songwriter camps in Los Angeles, designed to allow talented young artists the opportunity to work, learn and play with the music industry's top professionals. Now a 2013 graduate from Atlanta Institute of Music's acclaimed guitar program, Carly is what you would call a triple threat: she not only composes soulful and sophisticated music, she also sings beautifully and plays a mean acoustic guitar. In addition, she has earned a substantial reputation for her skill on electric guitar, having performed for a period of time as a lead guitarist with mentor, Caroline Aiken. Though youthful, Carly sports an old soul; her dedication to her art is readily apparent in her performance.
Calhoun, GA native B.J. Wilbanks creates blues-infused music reminiscent of a bygone era, combining deeply-rooted Delta blues, country, funk, soul, and acoustic Southern rock to create a sound that is familiar, yet uniquely his own. His heartwarming tales of heartache, love, and home combine artfully with an engaging live performance that, in one moment can sit you back in your chair and in the next, rock you right back out of it! Wilbanks crafts his distinctive sound with acoustic guitar, often accompanied by finger slide or harmonica. His original songs range from break-your-heart romantic to stomp-your-foot grooving, merging back-porch soul rhythm with a gospel vocal overtone and a slanky, steady beat. He'll often sling his guitar over his lap to play a slide tune that evokes the image of old field working men and chase it with a contrasting tune filled with sweet strumming, gentle singing and smooth picking.
Together as Gibson Wilbanks, these two have been called "Gregg Allman meets Bonnie Raitt." They have combined their considerable songwriting and musical skills to create the unique and popular Southern bluesy sound that helped them to win the coveted songwriter's open mic competitions at Eddie's Attic in December of 2011 and in November of 2013 at Eddie Owen Presents @ Red Clay Theatre. Think Gregg Allman meets Bonnie Raitt meets Michael Hedges with a dash of Al Green–in short, an entertaining and joyful experience not to be missed!
Gibson Wilbanks online:
Website
Facebook
Twitter
Instagram
Gibson Wilbanks from OMPlive on Vimeo.